9 Days Lower Omo Valley "Africa's last frontier"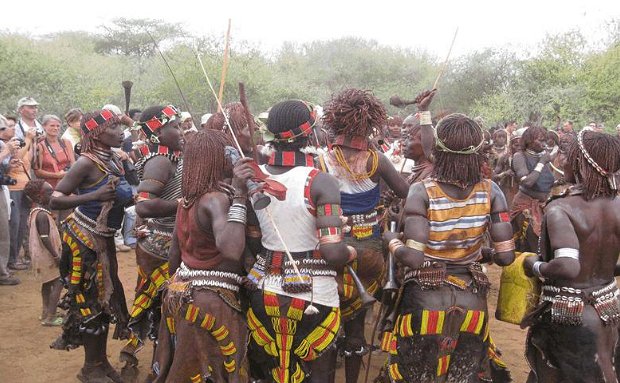 Route: Addis Ababa – Arba Minch – Jinka – Mursi – Turmi – Addis Ababa
Itinerary
Day 1
Addis Ababa, City Tour
Upon arrival in Addis Ababa, our staff will meet you at Bole International Airport and transfer you to your Hotel. Enjoy the morning of leisure and lunch at the hotel. Afternoon visits the National Museum, to see the 3.2 million-year-old remains of "Lucy," whose skeleton was discovered in 1974. Continue to the Ethnological Museum at Addis Ababa University to see many tribes' artifacts of Ethiopia and their respective cultures. After visiting Holy Trinity Cathedral, we will end the day with a drive to the top of Mount Entoto, which rises to an altitude of 3200 meters (10,500 feet) and offers a panoramic view of the metropolis. Overnight hotel.
Day 2
Addis Ababa – Arba Minch 500 Km.
Drive south to Arba Minch via Hosahina Road, stopping for a sightseeing tour of the UNESCO World Heritage Site at Tiya – An archaeological site of ancient Ethiopians. After lunch, continue driving through the Wolayta farmlands, with views of the lush green hills and valleys. Arrive late in the afternoon at Arbaminch, which means 'Forty Springs' in Amharic. Arbaminch takes its name from the bubbling streams that cover the low-lying forest, occupying the flats of the town. Overnight hotel.
Excursion drive to the village of the Dorze tribe, Walk amongst the Dorze people and appreciate their beehive-shaped homes. These tribes are respected as expert weavers. After lunch, enjoy a refreshing boat trip on Lake Chamo, home to huge crocodiles, hippos, and a variety of birdlife. overnight hotel.
Day 4
Arba Minch–Jinka 260 Km.
Visit the colorful village of the Konso tribe. Konso erect eerie wooden totems, replete with phallic symbols over the graves of the dead. They also have numerous cults based on the breeding and veneration of serpents. The cornerstone of Konso culture, however, is a highly specialized and successful agricultural economy that, through terracing buttressed with stone, enables these people to extract a productive living from the none-too-fertile hills and valleys that surround them. This will be an excellent day to mingle among the people, take photographs with them and learn firsthand about a culture virtually untouched by the outside world. Later in the afternoon arrive in Jinka, located at the foot of Mago National Park. Overnight hotel.
Day 5
Jinka – Mursi–Back to Jinka 130 Km.
This morning drive to a Mursi tribal village. The tribe is renowned for the different customs of their women, upon reaching maturity, having their lower lips slit and circular clay discs inserted. Return back to Jinka for lunch. Afternoon proceeds to the Ari Village compound. Learn and understand how the local people making pottery and alcohol (homemade liqueur) Overnight hotel.
Day 6
Jinka–Turmi 120 Km.
This morning proceed Turmi to visit the colorful Hamer tribe, they are well known for their remarkable hairstyles made of ochre, water, and binding resin, resulting in copper-colored locks. This is a sign of wealth for this tribe. The Hamers are also considered the masters of body decoration. Overnight Lodge.
Turmi is our base as we explore the region and meet different tribes who share this valley but live a life uniquely their own. Drive to Murele, lies on the banks of the Omo River, and is a popular base for exploring this area. The two main tribes who live here are the Hamer and Karo, both of whom practice scarification and have elaborate hairstyles. The Karo are experts in body painting, using clays and locally available vegetable pigments to trace fantastic patterns on their faces, chests, arms, and leg. Karo men also sculpt and shave their hair into extravagant shapes, with special ochre "caps" of hair usually containing several ostrich feathers. overnight Lodge.
Day 8
Turmi – Arba Minch 265 Km.
Drive back to Arba Minch on the way stop at Arbore tribe who are known for herding cattle and depend on plant cultivation for their basic food. They provide cereal grains for neighboring tribes through trading partnerships. They are considered pastorals and have their own unique physical appearance with the women covering their heads with black cloth and known to wear very colorful necklaces and earrings. Body painting using natural colors is made from soil and stone. Traditional dancing is practiced by the tribe and wealth is measured by the number of cattle a tribesman owns. Overnight hotel.
Day 9
Drive back to Addis Ababa and departure 500 Km.
This morning commence our drive back to Addis Ababa and stop at Lake Ziway to see the colorful water birds. Evening, dinner in a traditional restaurant. Transfer to the airport to fly back to your home. End of the tour.