9 Days Bale Mountain Trekking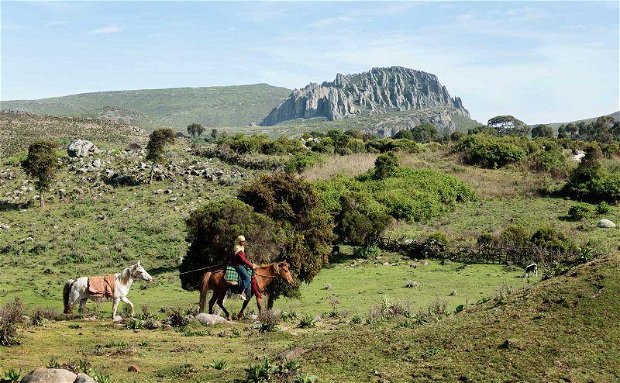 Route: Addis Ababa – Bale Mountains – Addis Ababa
Itinerary
Day 1
Arrive in Addis Ababa, City tour of Addis Ababa.
On your arrival in Addis Ababa, our staff will meet you at Bole International Airport and transfer you to your Hotel. The rest of the day visiting Museum, church, Merkato (market), and drive to Mount Entoto which is the panoramic view of the metropolis
Overnight Hotel.
Day 2
Addis Ababa–Bale Mountain (Dinsho)400 Km.
After breakfast, we start a full day drive to Bale Mountain National Park, traveling the southeast part from the capital, where fertile land is cultivated by the Oromo people. We will arrive at Dinsho late afternoon, Park headquarter, to see the endemic mammals, Menelik's Bushbuck, and Mountain Nyala. And birds Blue-winged goose, Spot-breasted lapwing, Abyssinian long claw, Wattle ibis, Black-headed siskin, Rouget's rail, and other species. Overnight at Dinsho Camping.
Day 3
Dinsho and Geysay Valley.
The whole day visit around Dinsho and Geysay Valley. Hike to see the mammals and birds. Overnight camping at Dinsho.
In the morning we trek 5 to 6 hours through the lush highland vegetation to our first campsite, Mararo. The air here is clean and crisp and the scenery is completely stunning. En route, you will see a number of birds. Overnight Camping at Mararo.
After breakfast, we resume a trek that will last for about 7 to 8 hours. The trek offers the chance to see Ethiopia's endemic Abyssinian Wolf. Around Worgona mineral spring, the Giant Mole rat can easily be seen. Overnight camping at Wasema Valley.
Today you trek through the highlands ascending Senati Plateau and crossing Batu Mountain, 4200 meters. Here you have a great opportunity to see the Ethiopian wolf. You will also see a number of birds of prey such as Lammergeyer, Verreaux's eagle, and Harrier hawk. Overnight camping at the base of the valley, viewing Lake Gebre Guracha.
Today you trek towards little Batu Mountain, this trek is the day you face back to the headquarter of the Bale Mountains. The trek will take about 6 to 7 hours. Overnight camping at the base of Little Batu Mountain.
Day 8
Trek Back to Dinsho.
After breakfast trek back to Dinsho. This last trekking day will take about 5 to 6 hours. Overnight Dinsho.
Day 9
Drive back to Addis Ababa evening Departure.
Drive back to Addis Ababa with stops on the way at Sodere Hot Sprig on the other side again in the Rift valley. Evening a farewell dinner party in one of the traditional restaurants with dances from a different tribe. Then transfer to Airport for your flight back home.