3 Days Semien Mountains Trekking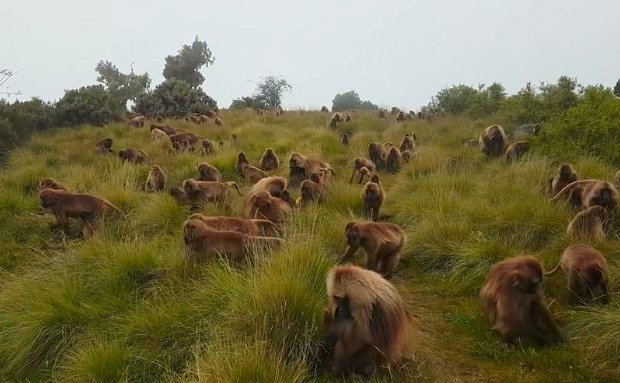 Route: Gondar – Debark – Sankabar – Gondar Gondar – Debark – Sankabar – Gondar
Itinerary
Drive from Gondar to Debark. Here we obtain a permit from the Park headquarters and collect our obligatory scout before continuing to Sankabar (3250m ASL) for the first overnight camp. An early start is needed as the drive from Gondar takes 2-3 hours. The trek begins at Buytras (Simien Lodge), taking about 3 – 4 hours to walk to the Sankabar campsite is usually possible. During the walk, there's a good chance of seeing your first Gelada baboons.
On the morning of day 2, we will walk to Geech via the spectacular Jinbar waterfall. The trek will take approximately 5 – 7 hours. After descending down to the Jinbar Wenz (which feeds the waterfall) a short ascent remains to Geech village. A short distance beyond Geech village is the campsite. The campsite has great views of the mountains and is characterized by giant lobelia plants. The nearby Kedadit summit provides one of the best places to see the sunset. The campsite is situated at 3600m ASL.
Day 3
Geech to Ambaras to Gondar
We trek from Geech to the Imet Gogo promontory, for one of the most spectacular views in the whole mountain range. This is a great day for seeing the magnificent Lammergeier vultures. From Imet Gogo we trek back to the road near a village called Ambaras and meet the car for the drive back to Gondar. The trek will last approximately 4-5 hours.