3 Days Danakil Depression Tours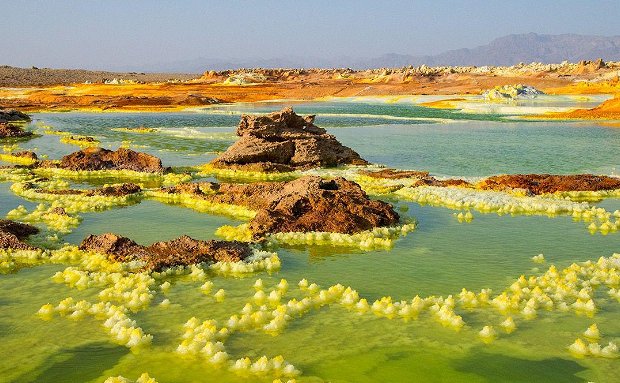 Route: Mekelle – Dodom – HamadEla- Dallol- Mekelle
Itinerary
We drive from Mekelle to – Dodom the beginning to discover Danakil Depression. We start an early drive to Dodom (at the base of Erta Ale). Leave after an early breakfast, possibly at 07:30. This is maybe one of the worst roads in the world. The 70 km distance may take about 5 hrs passing through changing landscape of solidified lava, rock, sand and occasional palm lined oasis. After you pass several small hamlets scattered here and there in this desert land, Dodom is about 9.5km from Erta Ale and it takes about 3 hrs trekking. Early dinner around 17:00 and trek up to Erta Ale at 20:00 hours. Camels transport all the camping materials and some food (sleeping materials like light mattresses and mat and water) to the rim of the volcano, where we spend the night watching the dramatic action of the boiling lava. Danakil depression (dallol and Erta Ale) ranks as one of the most alluring and physically challenging natural attractions anywhere in Ethiopia. It is a shield volcano with a base diameter of 30 km and 1km square caldera at its summit. Erta Ale contains the world's only permanent lava lake. Erta Ale is 613 meters, with a lava lake, one of only five in the world, at the summit. It is notable for being the longest existing lava lake, present since the early years of the twentieth century. Overnight camping on the mountain.
Waking up early ErtaAle -Dodom Leave back to Dodom you will reach latest at 8.00 am at the camp, after  breakfast time to relax. then drive to HamadEla 100km, picnic lunch on the way on a shed of a palm tree, reach HamadEla 04:30, better village with a total population of about 500 people. You will see lots of camel caravans and you will have the sunset look from the very shallow salt Lake Assale.  Overnight camping at HamadEla.
Day 3
HamadEla- Dallol- Mekelle
Morning tour Drive to Ragad (Asebo), the place where the
localities are mining salt. 1,200 km2 (460 sq mi) the Afar Depression is covered by salt, and you will Look at the activity of breaking the salt from the ground, local people are cutting it to rectangular pieces and loading it on camels. You drive ahead to Dallol and visit the different landscapes formed by volcanic activity; Dallol + Lake Assale + salt canon, camel caravans, follow up camel caravans, and Drive back to HamadEla for lunch and proceed to Mekele.