2 Days Visit Ziway, Langano, Abijata and Shalla Lakes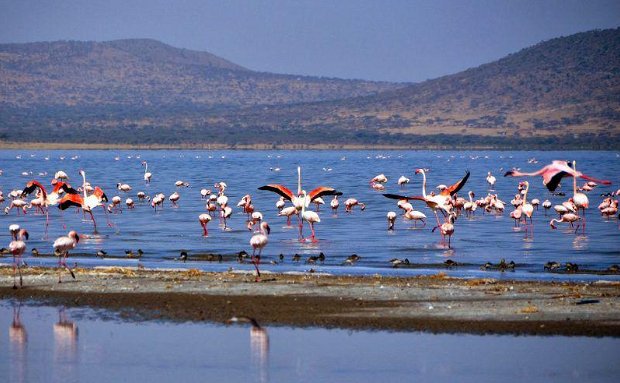 Route: Addis Ababa – Ziway – Langano – Shalla – Abijata – Addis Ababa
Note: Itinerary can be amended upon request. 
Itinerary
Day 1
After having breakfast, we set off towards the Rift Valley, passing through Debre Zeit and by the lakes of Koka and Ziway – if there are birders in the party, we will stop at Lake Ziway and head down to the lakeshore where huge numbers of water birds are congregated.  African Pygmy Geese, Yellow-billed Storks, Collared Pratincoles, Lesser and greater Jacanas, African Jacanas, White Pelicans, Fish Eagles, crowned and common cranes are some of the species to be seen here in impressive numbers. Lake Langano is bilharzia and crocodile free, and visitors can go for a swim, walk along the shores of the lake or go bird watching in the forests along the lake shores.
Later in the afternoon; we can visit Abijata-Shalla Lakes National Park At the park's head office; visit Ostriches and Grant's Gazelle, Hot spring water at Lake Shalla, people boil their food like corn.   We then head towards Abijata Lake, whereby this time of day the shores of the lake will be pink from the thousands of both lesser and greater Flamingo's which feed in the shallows.  African Pochard, Avocet, Gull-billed Tern and Pintail, Ruff, and a variety of ducks are among other species to be seen.
Overnight – Lodge – Langano
Day 2
We will spend the morning relaxing by the lake, take our lunch in the hotel and leave for Addis Ababa in the late afternoon, arriving early evening.